Ditto Music Social Media Packages
Get your music listened to, increase the number of fans you have and boost sales of your upcoming release with a social media package from Ditto Music.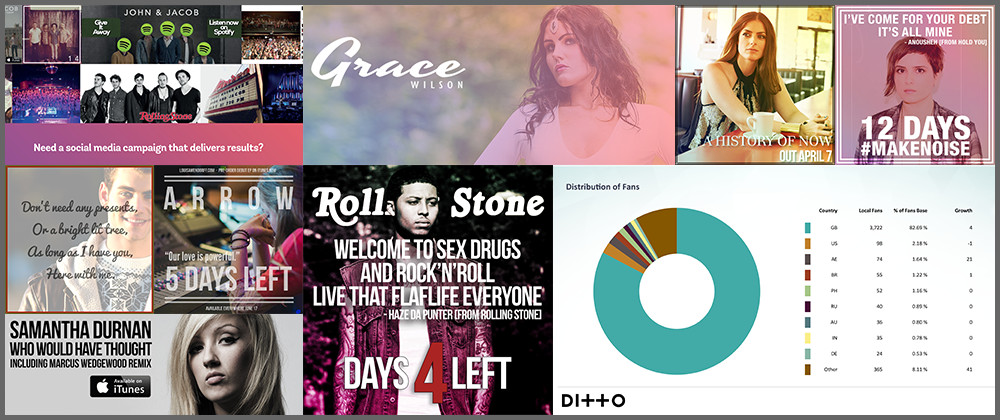 Because of my great results after using Ditto's services, I'm not only increasing my sales and my fan base but I also managed to chart in the top 10 of iTunes on my first ever release.
- Louisa Wendorff
Whether you are a platinum disc holder or just starting out we've got a social media package perfect for you. Your social campaign will be delivered by a team of dedicated in-house experts. From brainstorming sessions to idea implementation we've got it covered when it comes to delivering fresh and exciting social content across all your social platforms.

We have two social media packages available, our social media starter pack and the social media pro. See the tabs below for more info.

We also have several other music promotion services including PR services and store promotion placement. You can combine these services for a significant discount, enquire now for more info.
Price Guidelines
Social Media
From £299.00
PR Campaigns
From £1,499.00
Matt Parsons
Co-founder and CEO, responsible for all 13 of Ditto's UK Top 40 hits. Instagram and Snapchat guru, release strategy consultant.
Andy Tomlinson
Account & Social Media Manager
Mastermind behind our Social media strategies as well as overseeing accounts.
Shaun Little
Analyst & Paid Advertising
Making sure your campaign is thoroughly researched as well as ensuring any paid advertising is performing as well as can be.
Lloyd Sale
Responsible for establishing creative tone of project and producing range of graphics & videos across all media.
Sarah Hamilton
Making sure communication is strong between all people working on your campaign and that you are kept up to date with the success that is being achieved!
Vader Fame
Qualified in Entertainment Business Management and combines industry knowledge with a passion for social media. Helps develop, guide and position your music using the most current methods online to achieve success.
Social Media Starter Pack
£299.00
Ideal for those with limited budget, but still wanting big results. Our creative team builds a bespoke 4 week Instagram campaign and directs 1000's of targeted new people to your profile to listen and love your music.
Social Media Pro Pack
£1,499.00
The Social Pro is the way to go if you want your release to make the biggest impact possible across all social channels. We assign you an experienced project manager and creative team to build and implement a bespoke 6 week campaign, targeting Facebook, Instagram, Snapchat, Vine and Soundcloud.
Enquire Now